Welcome to ZentasticFit!
We're glad to have you here!
We're incredibly excited for you to start your yoga journey with us. With ZentasticFit, you'll be able to quickly and easily connect virtually with amazing yoga teachers for Vinyasa Yoga, Yin Yoga, power yoga, chair yoga, Ayurveda, and much more! Improve your flexibility, harness and boost your prana (energy), practice meditation, and tune in to your mind, body, and breathing to allow you to go about your days with focus, relaxation, and joy.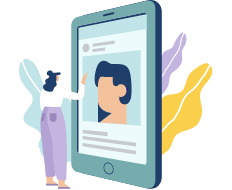 You don't even have to be signed in to browse the available options (but you will need to be signed in to message potential instructors or book a class).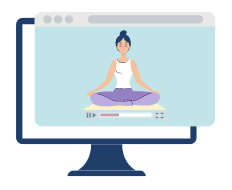 Once you find someone you like, book a private session and attend it live online from the comfort of your own home through our easy-to-use, all-in-one platform.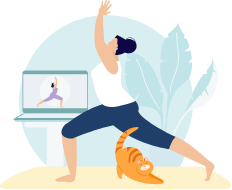 We offer a smooth and seamless private online yoga learning experience—your time, your terms!
Find a Yoga Instructor
With many different instructors to choose from, each with their own specialties, you can find the right fit for you and get the virtual yoga workout you want.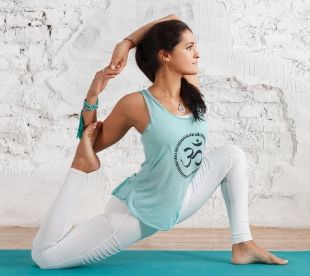 Whether you're looking for a specific yoga format, like Vinyasa or Hatha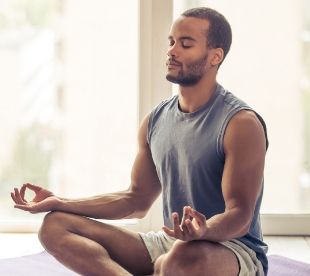 whether you're needing a midday meditation to ease your stress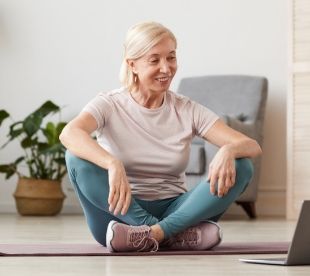 whether you're new to yoga and want something beginner-friendly with a focus on the fundamentals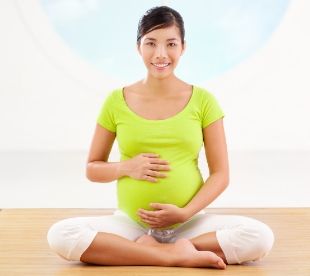 or whether you're hoping for something you can safely do during your pregnancy
Simply search for instructors using your keywords, browse the profiles that come up, message coaches of your choice, and book sessions with them. It's that easy!
Types of Yoga Classes
Yoga styles will vary from instructor to instructor, but some of the classes you might find include
Yin Yoga
Vinyasa Yoga
Power Yoga
Ashtanga Yoga
Hatha Yoga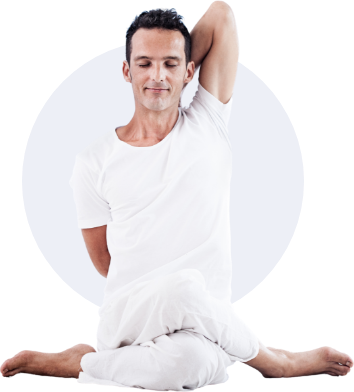 Kriya Yoga
Jivamukti Yoga
Kundalini Yoga
Ayurveda
Prenatal Yoga
Pricing & Scheduling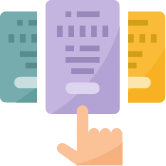 No memberships, no subscriptions; you pay for what you want, when you want it. Schedule classes when they suit your schedule, and pay only for the classes you book.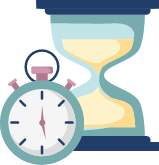 Instructors set their own rates (per 30-, 60-, and 90- minute session), so class prices will vary from one instructor to another. As you search for instructors, you can adjust the hourly rate range so that you can find a yoga teacher who suits your budget.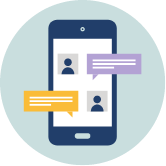 Once you find an instructor you want to work with, scheduling a session is as easy as sending them a message. Once you confirm the details with them, they'll create the session. You will then get a message asking you to confirm the booking and to pay for the session.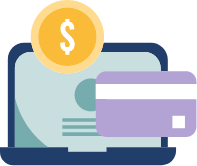 You can pay with the payment method you already have on file, or add a new one if you like. Once your session has been paid for, the video stream button will become available on your session details page 30 minutes prior to scheduled session time. It's as simple as that!
Frequently Asked Questions
Participants
What are the benefits of yoga?
How much time do you have? Okay, I'm kidding. But, in all seriousness, there are a lot of benefits of yoga, so I'll just highlight a few of the top ones: improved health and well-being, reduced risk of many diseases, better mood, less stress (and improved stress management), reduced inflammation, improved balance, better posture, improved range of motion, and, depending on the style of yoga, improved strength and/or cardiorespiratory fitness. For more benefits, check out this article on the benefits of activity in general, and this one on the benefits of yoga more specifically.
How can I find the right yoga instructor online?
When you browse for instructors, use keywords to refine your search to the styles of yoga that you want(e.g., Yin, Ashtanga, Vinyasa, etc.), or to highlight attributes of an instructor's approach or specialization that you're looking for (e.g., mindfulness, positivity, athletic, beginner, etc.). Then browse the profiles of the instructors that match your search to read more about their approach and experience to see if they'll be a good fit. You can also message them if you have any questions. They'd love to hear from you!
How long is a private yoga class?
This is up to you. An hour is pretty common for a yoga class, but when you book, you can choose what works for you. As you look to schedule your yoga class, you can request a 30- minute, 60-minute, or 90-minute lesson.
What should I wear to my yoga class?
This is largely a matter of personal preference, but we'd recommend that you wear something that breathes pretty well, that is flexible, and that fits comfortably without being too loose (baggy clothes might get in the way as you try to move).
How many calories do you burn in a yoga class?
Calorie burn will vary widely based on your metabolic profile and the type of yoga you're doing. Power Yoga, being more athletic, will burn more than Vinyasa, which will burn more calories than Yin, which is more stretch-focused. That being said, for a more athletic style of yoga, you might burn upwards of 300 or 400 calories in an hour, whereas for a more meditative or stretch-based practice, you might burn around 100 calories in an hour.
Teachers
How can I become a yoga instructor online?
It's easy! If you're already trained and experienced as a yoga teacher, just sign up as an instructor with ZentasticFit and start teaching classes online. You can start the instructor registration process here: Instructing on ZentasticFit: How It Works.