---
BACKGROUND CHECK POLICY 
All instructors who wish to provide services to minors must complete a background check at their own expense with ZentasticFit's chosen background check provider. Other instructors have the option of getting a background check. ZentasticFit members are not asked to submit to background checks.
Background checks will be processed securely through Checkr, Inc. Background check results are valid for 12 months and the fee ($15.99) is non-refundable, regardless of the results.
Please note that background checks are only available for those who have a valid U.S. Social Security number (SSN).
The results of a criminal background check provide clients and, if applicable, their parents or legal guardians, with an additional safety factor to consider when choosing an instructor. ZentasticFit reserves the right to decline listing the services of instructors who do not successfully pass the background check. Any instructor who successfully completes a background check will have a "background check completed" badge displayed on their profile and will be able to provide services to minors on the ZentasticFit platform.
HOW IT WORKS 
~ Navigate to the "Background Check" page of your instructor settings and pay $15.99.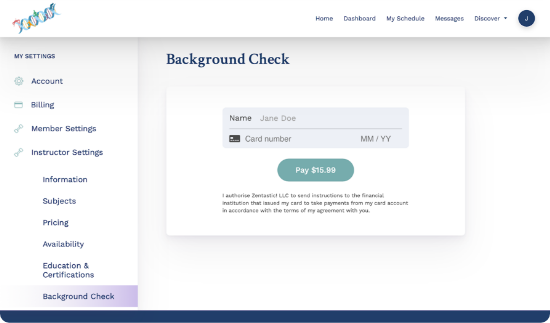 ~ Once your payment is successfully processed, you will receive an email from Checkr, Inc., our chosen background check partner, with further instructions and a link to provide all necessary information. 
~ You will be asked to provide Personally Identifiable Information (PII), including your full name, date of birth, SSN, residential address, phone number, email address, and any aliases you may have. Please be aware that furnishing incorrect or incomplete personal information may result in a background check that fails to meet the requirements of our platform. 
~ You will then be presented with and asked to acknowledge receipt of applicable forms and    notifications, including a Summary of Your Rights under the Fair Credit Reporting Act (FCRA) and an Acknowledgment and Authorization for Background Check.
~ After you acknowledge and give consent, Checkr will begin the background check.
~ Background checks can take anywhere from 24 hours to a week or more. If you are looking for more information on your background check's status or progress, please log into the Checkr Candidate Portal. 
The conducted by Checkr on your behalf will include SSN Validation/Trace, Sex Offender Registry Check, Global Watchlist Records Check, and National Criminal Database Search. The details of these checks, as taken directly from Checkr, are as follows: 
SSN Validation/Trace
SSN validation confirms the SSN is valid and identifies both the state and the year of issuance. The search also covers the national death index. 
Sex Offender Search
Checkr searches sex offender registries in all 50 states and the District of Columbia. Any known sex offender matching your candidate is listed, with identifying information, as well as details of the offense(s) depending on the state or reporting jurisdiction. 
Global Watchlist
Checkr searches various US and international government watch lists, such as the Office of Foreign Asset Control, Interpol and Specially Designated Nationals. 
National Criminal Database Search
The national criminal search is a multi-jurisdictional search that encompasses numerous sources. It includes national security sources, numerous federal databases, and arrest and criminal data from various local, county, and state agencies. 
Limitations of Background Check
The background check is only a database search, and any background check provided to us may not cover all federal, state, and county records. Offenses for minors may not appear during a background check. The background check will only cover publicly available convictions that may not be up to date and will not cover all arrests or foreign records. In order to protect a Service Provider's privacy, the results of a background check are only reported to ZentasticFit on a pass/fail basis. Members also must understand and agree that we neither confirm nor deny the validity of information provided by any user or by any third party. Background checks are not a perfect safety solution and people with criminal history can sometimes get around even the most sophisticated search technology. Therefore, users should understand that background checks are not always reliable. Please refer to the ZentasticFit Terms of Use for more information.
WHAT IF THE RESULTS OF A BACKGROUND CHECK DO NOT SATISFY THE REQUIREMENTS OF THE PLATFORM?
ZentasticFit reserves the right to decline listing the services of anyone convicted of, or pleading guilty or no contest to, any crime involving violence, sexual misconduct, fraud, larceny, abuse, or endangerment, as well as child pornography or abuse or any other unlawful behavior involving a minor. Please note further that ZentasticFit reserves the right to conduct further background investigations and to take any action it deems necessary for the safety and well-being of other ZentasticFit members. 
In general, to the extent permitted by applicable law, the following will be considered as warrant to deactivate the public profile or delete the account of an instructor:
~ Felony convictions within the past seven years;
~ Misdemeanors relating to children within seven years; and
~ Misdemeanors not relating to children within the past three years.
All disputes concerning the outcome of the background check must be directed to Checkr, Inc. Please 'cc' ZentasticFit (backgroundchecks@ZentasticFit.com) on all of your email communication with Checkr, Inc., in regard to the dispute of your background check report results.
Checkr, Inc.
1 Montgomery Street, Suite 2000
San Francisco, CA 94104
Telephone: (844) 824-3257
Email: support@checkr.com
https://checkr.com
In instances when background check results are amended, ZentasticFit will reactivate Service Provider's public profile.