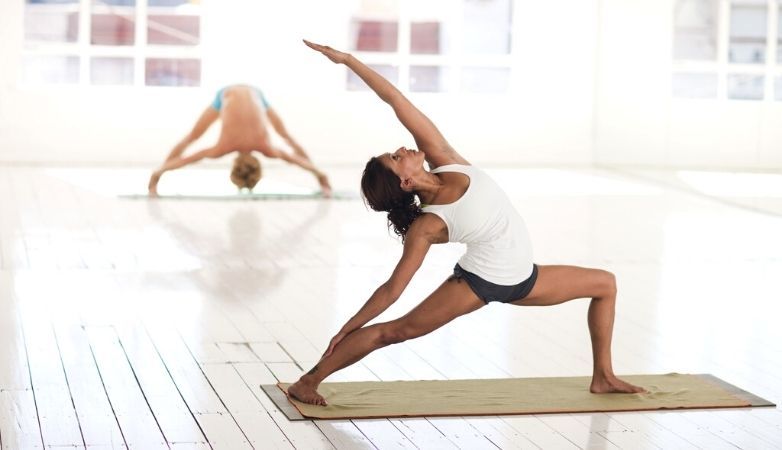 Your Hatha Yoga Guide
For anyone who is interested in expanding your yogic knowledge or practice to encompass are more holistic yoga style, hatha yoga might be for you. Developed in the 15th century, hatha yoga is a traditional type of yoga that incorporates asana physical practice, mudras or hand signals, breath control, and concepts of vital energy.
To learn more about the history, basics, and class expectations of hatha yoga, keep reading below.
All About Hatha Yoga
Hatha yoga was originally brought to the United States by yogi Swami Vivekandanda. In 1893, he decided to spread the practice to America and started a small center in the states. By the 1920s, hatha yoga became mixed with other popular fitness exercises like pilates and other types of yoga to create a vinyasa flow version of hatha.
It was not until the mid-1950s that hatha yoga was finally broadcast nationwide in a television program titled "Yoga for Health". After that, the American interest in hatha yoga began to grow, leading spiritual leader Maharishi Mahesh Yogi to open a transcendental meditation center in the states as well. As the advisor to The Beatles, he helped popularize the spiritual aspect of hatha yoga practice in addition to the physical practice.
Some other famous teachers that paved the way for hatha and other yoga are:
Sri Tirumalai Krishnamacharya
BKS Iyengar
Swami Sivananda
Paramahansa Yogananda
What to Expect from a Hatha Yoga Class
When taking a hatha yoga class in a studio, hatha or vinyasa are usually the two that will be the most prevalent on studio schedule lists. Hatha yoga, though known as a gentle and simple yoga practice style, is actually a mentally and physically challenging experience.
Hatha yoga classes can vary when it comes to exact postures and chants depending on the yoga instructor. Most hatha yoga classes can be anywhere from 1 hour to 1 hour and 30 minutes long, starting with a breathing exercise or pranayamas involving mudras, or hand gestures. At that point, the instructor may ask you to close your eyes and offer the class as a dedication to a loved one or ask you to set an intention for your practice.
The class will then continue with a gentle warm-up involving poses like child's pose, cat-cow, and the first downward dog of the session. It will progress to approach more difficult poses that involve a lot of long holding, patience, and deep breathing.
After the pinnacle of the most challenging post of the class is reached, there will be an extended savasana. The challenging poses in hatha yoga are often held for at least 10 breaths, double as long as a typical ashtanga yoga class, and focus more on stretch than strength in general.
During or after your hatha yoga practice's savasana, the instructor may read from traditional yogic texts, share words of wisdom and contemplation, or use Tibetan singing bowls to create a meditative experience. You will then come together as a class to hold your hands in prayer over your heart and then your third eye center to honor the class, the space, the instructor, and yourself by bowing and saying "namaste".
When you are finished with the class, remember to respect the hatha yoga etiquette and exit the room calmly and quietly in order to maintain the energy created without disrupting it for others.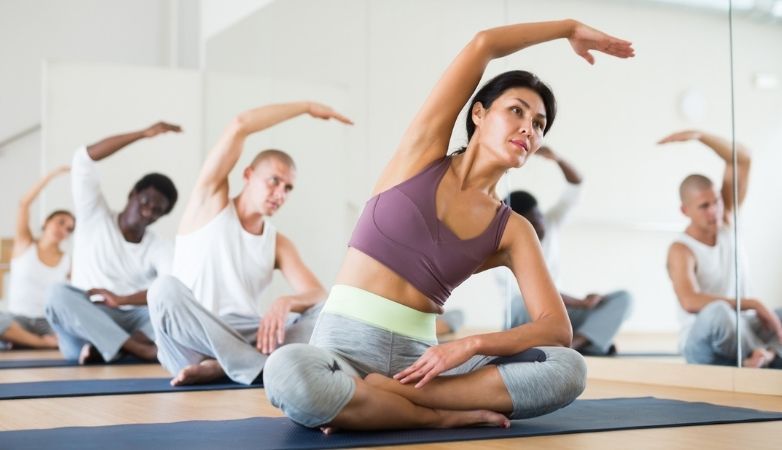 The Benefits of Hatha Yoga
The benefits of yoga, while not all scientifically proven, have been known by yogis, gurus, swamis, and practitioners for thousands of years. Lately, the American and British health authorities have been catching up to this knowledge with their own scientific analysis.
According to the National Institute of Health's analysis done by the National Center for Complementary and Integrative Health, it was agreed that yoga does have the following important health benefits when practiced regularly:
Anxiety: Hatha yoga can ease anxiety by putting the focus of the mind and the body on the present moment, encouraging mindfulness with purposeful deep breathing.
Depression: Doing hatha yoga every day for an extended amount of time has shown to ease the effects of depression by encouraging positive neural connections to occur in the brain during practice.
Arthritis: If you have arthritis, hatha yoga will likely be good for you. Doing slow and steady hatha that stretches the muscles and ligaments can encourage lubrication of the joints to ease arthritis pain.
Back pain: It has been shown that back pain often occurs from hamstring tightness. When you take a hatha yoga class, you are focusing on opening the hips and lengthening the hamstrings, eventually resulting in less back pain.
Balance: Doing hatha yoga can increase proprioceptive receptors in the brain, therefore improving balance. The class also involves a lot of one-foot balancing and standing still with the eyes closed.
Sleep: Practicing yoga before bed can improve sleep by encouraging neurons in the brain to be more available for REM sleep. Breath is also important before sleep, allowing your body to regenerate in the night when it has enough oxygen intake.
Take a Hatha Class
If you are interested in taking a hatha class for the first time or continuing your hatha yoga practice with new hatha yoga classes, studios, and instructors, consider browsing ZentasticFit to view our comprehensive directory of yoga happenings.
Our list of friendly professionals are happy to cater their classes to you, introduce you to new yogic practice styles, and encourage you as you dive deeper into the regenerative and fulfilling world of hatha yoga.
By Shasta Fay
Related Articles