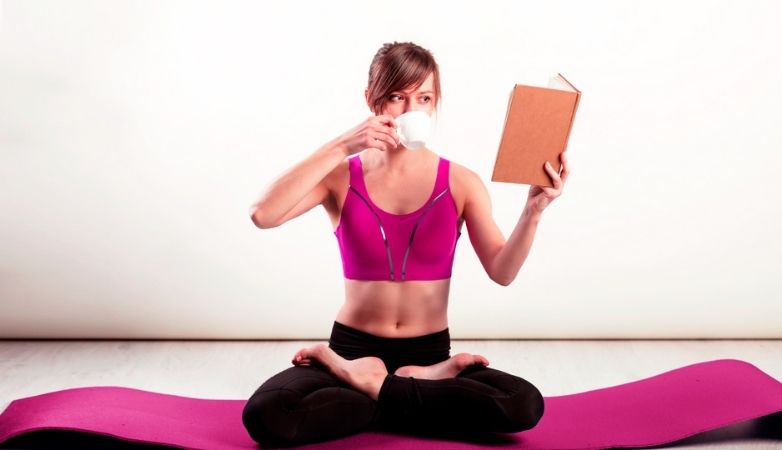 Your Complete Yoga Reading List
When it comes to yogic knowledge, the availability for learning is endless. With thousands of years of knowledge intertwined with practical practice and religious texts, it can sometimes feel difficult to decide what to learn next.
One of the best ways to expand your consciousness and open your thinking when it comes to yoga and the yogic lifestyle is to read. From The Bhagavad Gita and powerful words of wisdom from thought-leaders like Ram Dass and Eckhart Tolle to beautiful poems by Thich Nhat Hanh, this reading list is bound to leave you feeling both wide-eyed and well-rounded when it comes to an intake of knowledge.
Continue reading below to learn about our suggested titles and authors for your complete yoga reading list.
The Bhagavad Gita
The Bhagavad Gita is one of the main staples that every yogi should read at least once in their life. While it is full of pretty cerebral content, the Bhagavad Gita outlines the basis of Hinduism as one of its main holy scripts.
Often translated to mean 'The Song by God' , the Bhagavad Gita is a 700-verse epic that dates back to the first millennium BCE. Based on a narrative outline that follows a dialogue between Arjuna the Pandava Prince and Lord Vishnu's Krishna chariot driver disguise, the Bhagavad Gita will have you pondering morality and nuance as you read.
Light On Yoga by B.K.S. Iyengar
Light On Yoga by B.K.S. Iyengar is an important yogic text written by one of the world's most respected yoga teachers. Devoting his life to yoga and its practice, Iyengar created a revolutionary yoga teaching style featuring his one-of-a-kind pedagogy that is still followed by most teachers today.
Referred to as the 'Bible of Yoga', Light On Yoga is both inspiring and encouraging for seasoned yogis and beginners alike.
Autobiography of a Yogi by Paramahansa Yogananda
Originally published in 1946, Autobiography of a Yogi chronicles the life of Paramahansa Yogananda and his lifelong quest to serve all people through yoga.
Focusing on aspects of his life including his childhood, relationship to his guru, the opening of his first yoga school, his first trip to the United States, and the opening of the world-famous Self Realization Fellowship, the book takes a look at one of the most beloved yogis of all time.
The Yoga Sutras of Patanjali by Swami Satchidananda
This book is perfect for anyone who wants a guide on how to improve their physical yoga practice. An in-depth guide to the practice of Raja Yoga, or meditation-based yoga, you will learn about spiritual practice, postures, and ethics from the yoga master and Paramahansa Yogananda's guru himself: the legendary Swami Satchidananda.
The Upanishads
Forming the foundations of Hinduism, The Upanishads are Vedic texts originally written in Sanskrit and referred to as the 'Ultimate Hidden Reality'.
There are over 200 Upanishads, or religious texts, that coincide in one large cohesive collection. Only 108 of these texts are actually considered traditional, and only 10 of them are recognized as the principal Upanishad texts. These 10 include the following:
Isha
Kena
Katha
Prashan
Mundaka
Mandukya
Tattiriya
Aitareya
ChandogyaBrihadaranyaka
While it may seem daunting to begin reading all 10 texts, consider starting with some of the smaller ones and avoid Brihadaranyaka until later as it is the largest of the 10 principal Upanishads.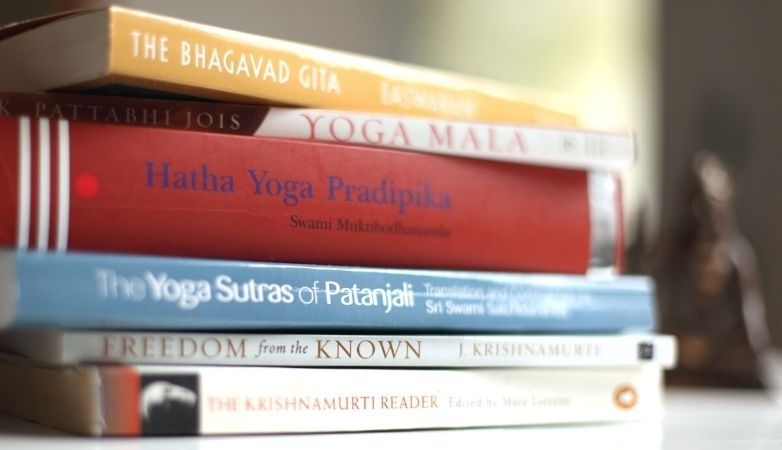 Be Here Now by Ram Dass
If you've seen the films Sunseed, Going Home, Becoming Nobody, or American Yogi, you might be familiar with Ram Dass. As a spiritual leader, Ram Dass, also known as Baba Ram Dass, was a Harvard psychologist and pioneer of the 60s and 70s free-thinking and spiritual movements.
Working closely with psychedelic trailblazer and pioneer Dr. Timothy Leary, Dass eventually dedicated his life to preaching love, acceptance, and mindfulness for the betterment of humankind in the image of his guru, Maharajji.
While technically not a yogic text, Be Here Now is a must-read for anyone studying yoga, breath, or meditation of any kind. Be Here Now is full of wisdom, thought-provoking prose, and anecdotes for how to become a happier and more enlightened person.
The Power of Now by Eckhart Tolle
Eckhart Tolle is a modern-day spiritual teacher and author of The Power of Now. Tolle has dedicated his life to spreading knowledge to others about mindfulness, personal acceptance, and religious perspectives. Though not from a particular religious tradition, he talks about the perennial wisdom connecting the world's major religions and how all people can live in peace together through accepting kindness and love.
The Power of Now uses a question-and-answer format to provoke the reader into the deep personal evaluation and the uncovering of deep universal truths.
Peace is Every Step by Thich Nhat Hanh
Thich Nhat Hanh is a revered Buddhist teacher, philosopher, and poet. He is the author of dozens of books about Buddhism, mindfulness, and how to conduct oneself with peace and compassion. He is a world-famous Zen Master originally from Vietnam who spent a large majority of his life as part of the peace activism movement in Vietnam and was also nominated for a Nobel Peace Prize by Martin Luther King Jr.
Peace is Every Step is a book that encourages us to slow down from the stresses of our everyday lives to approach the modern world and our daily actions with mindfulness for a more peaceful and honorable existence.
Reading to Open Your Mind
For yogic scholars and practitioners alike, reading yogic texts is a great way to dive deeper into your individual practice and challenge yourself to reach new heights of mindfulness, patience, and acceptance. 
To learn more about physical practice and opportunities to take classes, visit ZentasticFit.com and take a look at the meditation, yoga, nutrition, and fitness offerings being shared by our experienced and professional yoga teachers.
By Shasta Fay
Related Articles