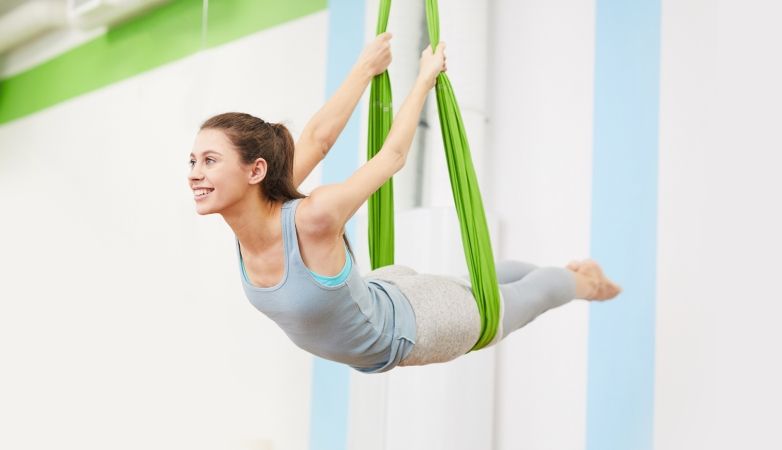 Top 10 Health Benefits of Aerial Yoga
Have you thought about trying aerial yoga? If you think it sounds too intimidating, you might want to think again. Aerial yoga is a wonderful alternative to the traditional practice of yoga, which is done solely on the mat.
Aerial yoga is yoga that is done on a swing or hammock. The hammock allows you to practice postures that might be more difficult on a yoga mat.
It has also been referred to as antigravity yoga. Aerial yoga was created by Christopher Harrison, a dancer with a background in acrobatics and performance.
Why is aerial yoga such a great alternative you might ask? 
When you perform aerial poses, you allow the body to decompress. If you spend a lot of time sitting or if you suffer from chronic back pain, decompressing the spine could be very beneficial. 
In the practice of aerial yoga, the hammock is kept close to the ground, typically within a meter or so from the floor. The hammock acts as a swing, supporting your hips in both forward and backward bends.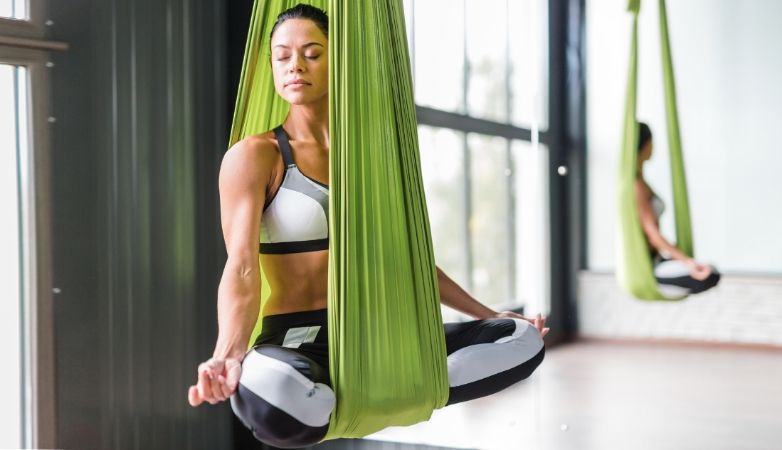 If you have trouble executing some of the more traditional yoga poses, aerial yoga gives you much more flexibility. It also takes the strain off of your body since you are performing the poses mid-air.
Aerial yoga is suitable for most people, unless you have a history of vertigo or if you happen to be pregnant.
10 Great Benefits of Aerial Yoga
Aerial yoga has some amazing benefits. Some of the key benefits are:
It's a total body workout.
It's psychologically beneficial.
Helps improve flexibility.
Can help heal back problems.
Increases strength.
Elevates the mood.
Helps improve balance.
Can aid digestion.
Can improve blood circulation.
Might help improve memory.
Aerial yoga is good for strengthening not only the core muscles but also the arms and legs. One of the key benefits of a practice like aerial yoga is the fact that it's a total body workout. Almost all parts of the body are forced to move and stretch during the practice, helping tone the muscles and regenerate and strengthen the joints.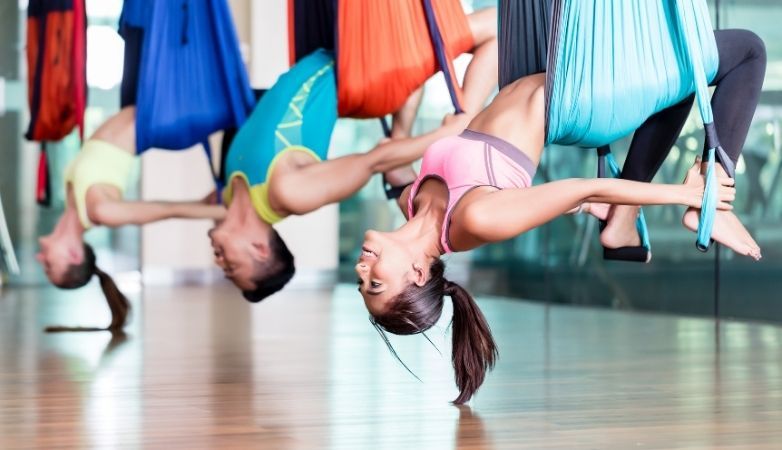 Aerial yoga can also benefit you psychologically, because it helps clear the mind, relieving stress. Just like a typical yoga practice, the fact that much of the practice is done in a meditative state is also highly beneficial to the emotions.
This type of practice can also help increase your flexibility since you are moving freely and counteracting gravity. Being suspended midair also helps release tension, especially on the muscles and bones.
Those who suffer from back problems benefit from hanging upside down, because doing so allows the spine to decompress. With less pressure on the spine, you can enjoy the practice more helping ease back problems.
If you're looking for a yoga practice to aid flexibility and improve strength, aerial yoga is a great choice. Aerial yoga, like the more traditional practice of yoga, also helps boost the mood. Going against gravity also gives you a nice adrenaline boost, helping to release certain hormones that can boost your mood such as oxytocin and dopamine.
Aerial yoga can also help you improve balance as well as stability. Maintaining proper balance can help you in many daily activities including walking, as well as other things.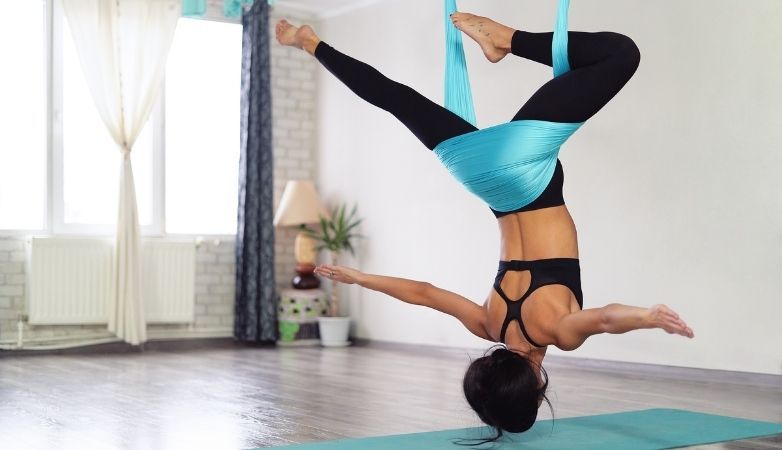 Believe it or not, aerial yoga can also help aid digestion. The different types of poses and stretches are good for lymphatic drainage, as well as helping to heal things like constipation and digestion issues. 
If you're looking for a practice to help combat aging and help fight heart disease, aerial yoga scores even more points. It helps improve the circulation of the blood and helps detoxify the circulatory and lymphatic systems, which in turn, can help lower your risk of developing cardiovascular issues. 
Last, but certainly not least, aerial yoga might also help improve memory. Aerial yoga helps fortify those neural connections, helping build better memory power. 
Aerial yoga is a wonderful opportunity for you to take your yoga practice to that next level. If you're thinking about installing your own aerial yoga hammock or thinking of purchasing or utilizing some kind of free-standing rig, you may want to reconsider. It's best to begin your journey with aerial yoga by taking a professional class where you can be supervised.
The best advice is to sign up for an aerial yoga class and try it for yourself. You won't be disappointed!
If you're looking for a certified yoga instructor or looking for a beginner yoga class in a more personal setting such as a one-on-one online video session, browse our online directory now.
By Leslie Riopel
Related Articles