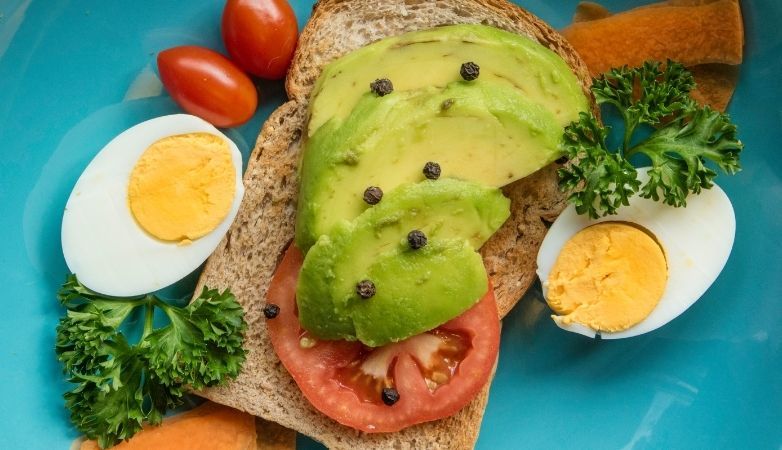 The Best Pre-Class Snacks to Fuel Your Yoga Practice
Anytime you take a yoga class or workout class of any kind, it is important to make sure that your body is properly fueled. You can ensure that you have enough energy and strength for your practice by indulging in a delicious and healthy pre-yoga snack. From traditional avocado toasts to yummy power bars for a quick energy boost, these snacks will have you feeling fulfilled, but not too full, and ready to flow.
Avocado Toast
When you are getting ready to exercise and want to make sure you don't get a blood sugar crash or lose momentum halfway through, it is important to eat healthy fats. Healthy fats, unlike saturated fats that are made up of processed foods, refined sugars, harsh oils, and chemicals, are helpful in keeping you satisfied when it comes to hunger.
Healthy fats can often come from foods rich in natural oils and carbohydrates, and include any of the following:
Avocados
Chia Seeds
Flax Seeds
Eggs
A great food pairing for a pre-yoga mini-meal is avocado with egg on toast. The combination of carbohydrates from wheat bread, fats from avocado and seeds, and additional fats and protein from the egg will give you a boost during your workout rather than before. These foods are easy to digest, meaning that you won't feel stuffed while starting to move your body, and they will continue to be a source of fuel throughout your entire class.
For those who keep a plant-based vegan diet, it is easy to make this meal adhere to your dietary standards. Simply eat avocado on toast and skip the egg. Add seasoning like a tiny dash of sea salt, cracked pepper, thyme, sage, or some red peppers for spice.
A Few Spoons of Nut Butter
Whether you are a peanut butter fiend or prefer munching on delicious almond butter, nut butter is the perfect pre-workout treat. Nut butters have many health benefits in general including being full of omega-3 acids. Omega-3s have been shown to reduce fat storage in the body and promote brain health during times of exertion.
If you choose to eat peanut butter, cashew butter, sunflower seed butter, or almond butter to keep your energy up during a grueling and challenging yoga practice, keep in mind that most, if not all nut butter is quite high in calories. For those trying to be mindful of weight loss, keep it to around only 2 tablespoons per snack. This will keep you from ingesting an extremely high unwanted caloric intake.
A Handful of Cashews
Eating a small handful of nuts is one of the best tried and true ways to beat hunger and supply your body with plenty of energy for your upcoming movement practice. 
A pro tip for any yoga student or yoga teacher is to keep a small bag of cashews in a resealable bag either in your car, backpack, or purse. Whenever you need a quick pick-me-up before class, eat a small handful. While cashews are high in calories, they are also high in natural fats that supply energy, making them the perfect nut to snack on when you're short on time.
A Colorful Smoothie
If you find yourself with plenty of time before heading out the door and need something slightly sweet to satisfy your belly, consider making a colorful smoothie. Smoothies with berries can be delicious, but smoothies that also contain any of the following will keep you energized through your entire afternoon workout or yoga flow series:
Bananas
Apples
Kale
Spinach
Nut Butter
Flax Seed Oil
Plant-based Protein Powder
Celery
Kiwi
Coconut Water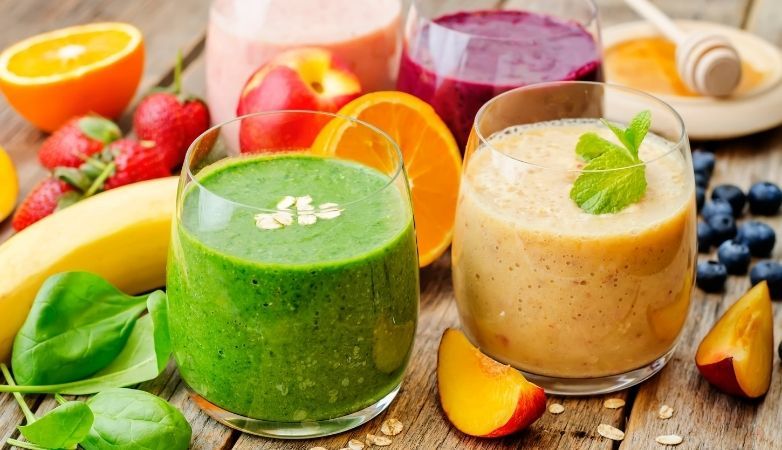 Potassium-Rich Bananas
Bananas are one of the best pre-yoga snacks because they encourage long and limber limbs. Since bananas contain a lot of potassium, they are great at ensuring that you won't get cramps part-way through class. 
If you are someone who loses balance, has muscle aches, or tends to get terrible muscle cramps during your yoga practice or movement workout, reach for a banana roughly thirty minutes before you begin your physical exercise. The potassium will begin to dissolve into your body and reach your muscles at the right time to keep you feeling flexible and available for your poses.
A Fibrous Protein Bar
Last but not least, for those constantly on the move without time to pack food or make a nutritious snack, protein bars can be a lifesaver for those pre-yoga snack times. If you're going to go for a protein bar, pick something with lots of fiber so that you feel full without eating too much. Also, consider choosing something with natural whole foods ingredients and minimal refined sugar such as a Larabar.
Important Foods to Avoid
When considering the best pre-class snacks to fuel your yoga practice, there are a few foods that you should avoid if you don't want to feel an energy crash mid-class. The following foods that can leave you feeling groggy, tired, and irritable are:
Gatorade or power drinks
Anything with refined sugars
Meat or heavy animal products
Starchy carbohydrates like potatoes or pasta
Any deep-fried foods
Overly processed meals
Spicy foods that can cause heartburn during class
Get the Most Out of Your Yoga Practice
To learn more and continue to get the most out of your yoga and movement practices, visit ZentasticFit.com. Sign up for access to inspiring information and our informational newsletters, as well as various exciting classes, teachers, and studios for you to explore.
By Shasta Fay
Related Articles