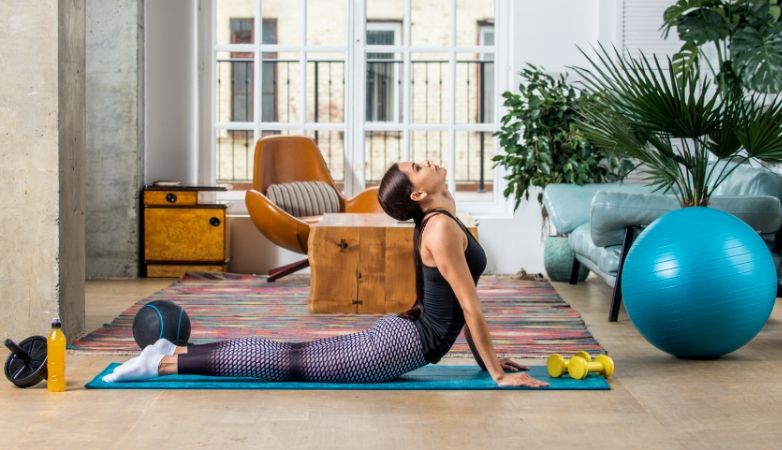 Setting Up Your Home Gym: The Essentials
Maybe the COVID pandemic has caused you to feel uncomfortable going to your local gym. Or maybe it has shut down your local gym. Or maybe you're just getting into fitness and would rather do your workouts in the comfort and privacy of your own home. We understand. And you're not alone. Whatever your reason for doing online workout classes from the safety of your own home, we're here to help.
But how do you get fit at home? What do you need for at-home workouts? For starters, and especially if you're new to fitness, you'll probably want to work with an online personal trainer who can help you set your goals and develop personalized online workouts to help you get there. Our instructors would love to work with you on your health and fitness goals.
Secondly, you might want a few pieces of equipment. Yes, there are a lot of movements you can do with bodyweight only that are highly effective (pushups, squats, lunges, burpees, etc.), and we encourage our instructors to be able to teach their online workout classes without equipment, if need be, since not everyone has a furnished home gym.
But body weight only goes so far. For some movements, and to hit certain muscle groups, you'll want some equipment. Let's take a look at the few most important—and most versatile—pieces of equipment that will make you feel like you have a fully furnished home gym, but at a small cost and without taking up much space.
Dumbbells
Dumbbells are simple and classic. And for good reason: you can do a lot with just dumbbells. From curls to shoulder presses to chest flyes to loaded squats and lunges, you can use dumbbells to target every major muscle group in the body.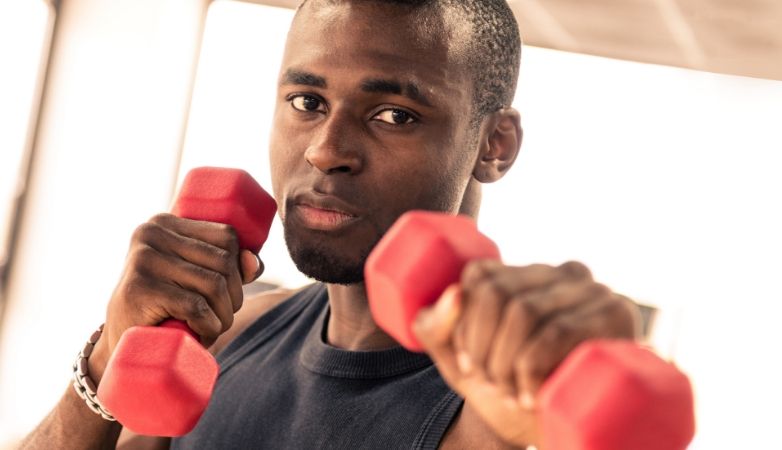 As you're looking to set your space at home for your online workouts, we'd recommend that you get at least two or three sets of dumbbells:
a heavy set (around 15 to 20 lbs) for the large muscles and movements (squats, lunges, rows, hinges, chest presses, etc.);
a medium set (around 8 to 12 lbs) for the smaller muscle groups (curls, overhead triceps dips, shoulder presses, flyes, etc.);
and a light set (around 5 lbs or less) for when you're working big-range-of-motion movements (e.g., straight-arm raises) and/or doing a lot of reps with smaller muscle groups, like you might do in a barre class.
With just a few sets of dumbbells, you can crush your online workout class and get a challenging workout for your body.
Resistance Tubes
Resistance tubes are one of my favorite pieces of equipment, and may even be as versatile as dumbbells. You can do a lot of the same movements that you would do with dumbbells (e.g., curls, presses, loaded squats, etc.), but there are other things that you can only do with resistance tubes. This is especially true for some of the harder-to-target muscle groups, like the hips. You can do all sorts of leg lifts or side-to-side squats against the resistance of the tubes.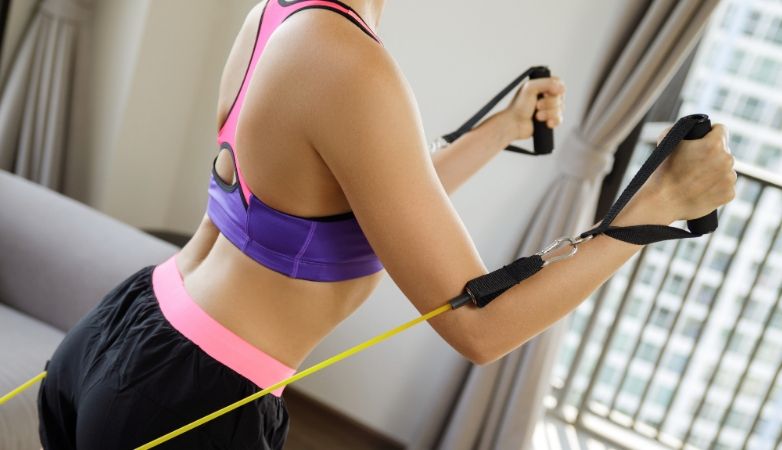 The other great advantage of resistance tubes is that they work muscles in a sightly different way. With dumbbells, the resistance is constant (a 15-lb dumbbell is always 15 lbs); but with tubes, the resistance gets stronger as the tube becomes more stretched, which triggers a different kind of muscle activation.
If you're looking to use resistance tubes in your at-home workouts, you'll probably want at least one that's a heavier level of resistance and one that's a lighter level. You can also find sets that combine together: you can use each of the tubes separately (each one being a different level of resistance), or you can combine some or all of them together to increase the resistance.
Mat
A yoga mat is perhaps one of the most essential pieces of equipment for your home workouts. If you've ever tried doing crunches or doing work in tabletop position (a.k.a., quadruped) on a hard floor, you'll understand why. It's uncomfortable. A yoga mat adds some much-needed cushion. If you don't have a mat, you could always fold up some towels or blankets to provide that same cushiony effect.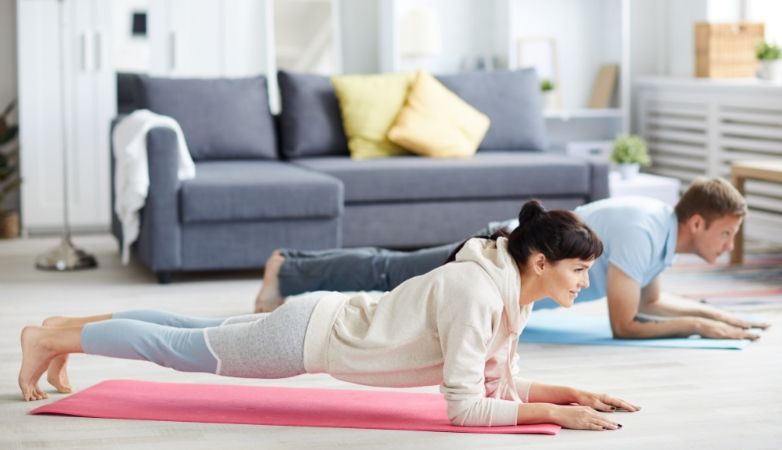 If your home workout space is carpeted, you may not need a mat, as the carpet may be soft enough. Nonetheless, a mat could still be nice, even if just to catch the sweat droplets and help keep your floor cleaner. Otherwise, you could use a towel.
So maybe it's not an essential piece of equipment (which is why it's last on this list), but it would be nice to have, even if only for the sake of your mindset: having a mat might make your workout space feel more official, which might make you want to use it more and/or work harder while using it.
Final Remarks
It doesn't take a lot of fancy equipment for you to get a lot out of your online workout classes. With just a few dumbbells and/or resistance tubes, and maybe a mat, you can get killer workouts from the comfort of your own home.
Te get tips and tricks on great moves to use with this minimal equipment, and to get personalized workouts, schedule an online workout class with one of our online personal trainers at ZentasticFit. You'll get personal, live instruction and customized workouts, all from the comfort of your own home and on your time and your terms.
By Dustin R. Meriwether
Related Articles