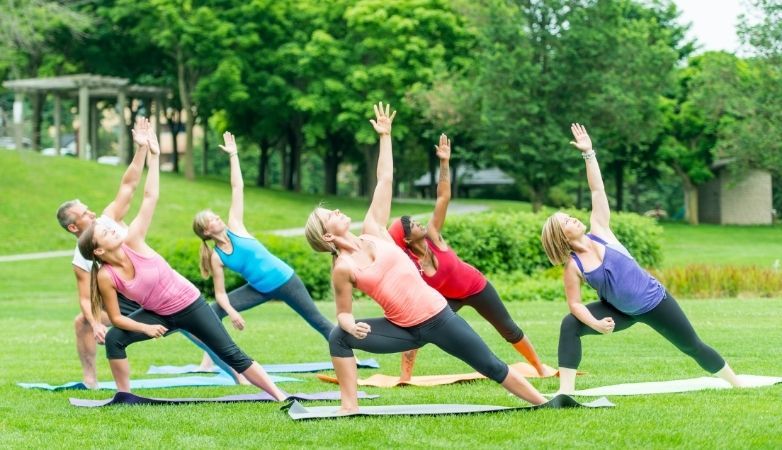 How to Maintain Your Yoga Practice While Traveling
As we head into the final stretch of summer, the adventurous spirit begins to take over. Whether you are an avid and active outdoorsy person or want to take a shot at traveling to visit family friends while the weather is still nice, maintaining our yoga practice while traveling or on the road can prove to be a challenging feat.
From investing in a great yoga mat bag to turning your yoga practice into a group activity that everyone can join, our simple tips will help you stay rigorous when it comes to accomplishing your yoga goals. Continue reading below to learn more.
Invest in a Yoga Mat Bag
When you're on the go, having a yoga mat back can be the difference between easy yoga mat transportation and having to uncomfortably lug your mat around. If you are traveling to another city other than your hometown that has studios where you'd like to try out some classes, a yoga mat bag can keep your mat and items safe from the hotel to the studio and back.
For those who are road tripping and camping away from home, a yoga mat bag can help you hike with your yoga mat to a perfect vista for self-practice without worries that you'll drop or damage your mat.
Practice Outside
Another great way to keep your practice going whilst traveling is to focus on practicing outside. If you are used to taking yoga classes in a studio with an instructor, this can prove to be quite an adjustment. If you do not want to practice on your own, you can utilize your cell phone to look up and stream yoga classes online.
Practicing outside can be a wonderful way to connect with nature and find a place of silence. For anyone traveling with a group or visiting family, stepping outside to the backyard or walking to a local park can be the best way to take a little time for yourself.
Find a Quiet Space
If you cannot go to a studio for practice or do not have easy access to the outdoors for practicing, find a quiet space where you are staying that you can dedicate to doing yogic activities. If you are staying in a busy house full of kids, animals, and family, clear a spot in your room just large enough for your mat or dedicate a less frequently used corner of the living room or common area specifically for your practice.
If you struggle to focus or find a quiet space in a house full of people or a public motel, consider doing some light yoga with headphones in. You can listen to audio instruction or even play light and meditative music to drown out the sounds around you and find internal focus.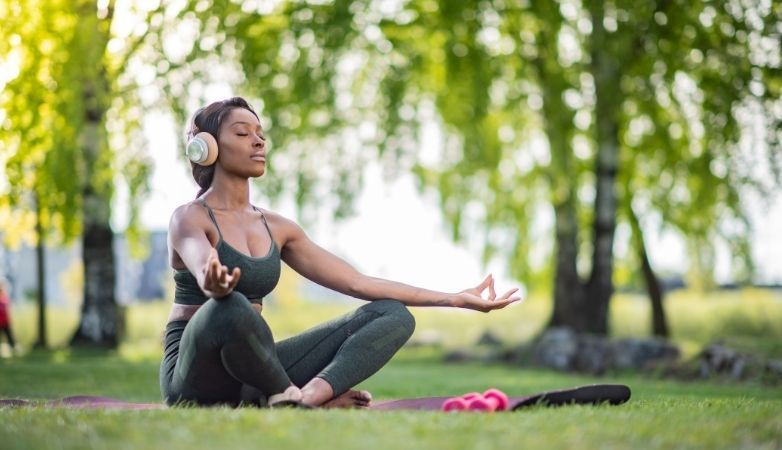 Make it a Group Activity
One of the best ways to maintain your yoga practice while traveling is to involve those around you in your yogic experience. If you are traveling with friends, invite them to gather with you and attempt a basic yoga class alongside you. For those visiting large families, invite everyone in the household to try out yoga in the backyard or living room. When you begin to develop habits with your community and those around you, you are more likely to find success at recreating that experience in the future.
Develop Routine
Developing a routine is often the only way to ensure that your yoga practice does not fall by the wayside when you are traveling from place to place during the summer season. Decide for yourself how many days per week you would ideally like to practice yoga, where your yoga practicing area will be, and what you will wear. If you dedicate each morning or some time every other afternoon, you will form a habit that becomes your natural rhythm. 
Others will also notice that you are busy during that time and likely not disturb you when they see you practicing yoga at the same time each day.
Something is Better Than Nothing
When traveling, it is important not to be hard on yourself when it comes to skipping, missing, or shortening your yoga practice. It is best to remember that doing some yoga is better than doing no yoga at all. A great trick is to encourage yourself in small doses, doing 30-minute classes or simple sitting meditations.
There are also many options online for shortened and abridged yoga practices including shorter Ashtanga Primary classes, on-the-go Hatha instruction, or morning Vinyasa classes made to lift your heart rate in only around 20 minutes, leaving you energized for the rest of the day.
Live in the Moment
Whether you are flying to an exotic location to stay at a beautiful resort, visiting your large family in a suburban household, or hitting the road to do some hiking and camping at different National Parks, maintaining your yoga practice will keep you feeling healthy and grounded. 
For access to online yoga schools, instructors, streamable videos, and a directory of different teachers in the areas you will be traveling to, take a look at ZenTasticFit.com where you'll be sure to find something to inspire you as you follow your need for adventure.
By Shasta Fay
Related Articles